Looking for facial aesthetic treatments in Manchester?
We provide a range of rejuvenating treatments including anti-wrinkle injections, dermal fillers and lip enhancement. These treatments can make a big difference to your appearance and confidence.
By choosing facial aesthetics at Tomas Dental Clinic you know you're in qualified safe hands. We pride ourselves on being able to offer you treatments that will help you to look and feel your very best.
All facial aesthetics treatments start with a comprehensive facial consultation where our skilled clinician will discuss your preferences and the treatment options available to you.
Anti-wrinkle injections
Our leading, non-invasive anti-wrinkle injections are perfect for smoothing out age-related lines when they appear.
Our skilled facial aesthetics team use botulinum toxin anti-wrinkle agents – sometimes known as Botox. It's a safe, effective method of smoothing crows' feet, frown lines and wrinkles to give the skin a smoother and more youthful look.
Treatment is delivered quickly and safely in an appointment lasting just half an hour. Thereafter, patients typically visit the clinic every four months to keep their fantastic results topped up and stay looking their best.
The three common areas that can be treated by wrinkle relaxing injections are:
the Glabella (the creases in between and just above the eyebrows)
the forehead
the smile lines around the eyes
Dermal fillers
Dermal fillers are a hugely popular treatment. From softening fine lines and wrinkles to adding volume to lips and sagging skin, they can totally transform your face.
The loss of collagen and a reduction of the skin's natural elasticity is one of the unfortunate side-effects of ageing. Dermal fillers can disguise the effects of collagen loss by restoring volume and plumping the skin. The result is improved definition, smoothing of wrinkles and years taken off your appearance.
We have carefully selected some of the leading dermal filler products, which are proven to get incredible results. The procedure is relatively pain-free and fast enough to be carried out in a busy lunch hour with time to spare. Dermal fillers are an excellent choice if you want natural-looking results.
Common treatment areas
Cheek Enhancement
Jawline Fillers
Chin Filler
Temple Hollow Fillers
Tear Trough Fillers
Lip Enhancement
Nasiolabial Folds (Nose to Mouth lines)
Marionette Lines (Lines from the mouth to the chin)
Perioral Lines (Smoker's lines)
Non-surgical nose job (straightening the bridge of the nose)
Eyebrow lift
Any fine lines or wrinkles on most areas of the face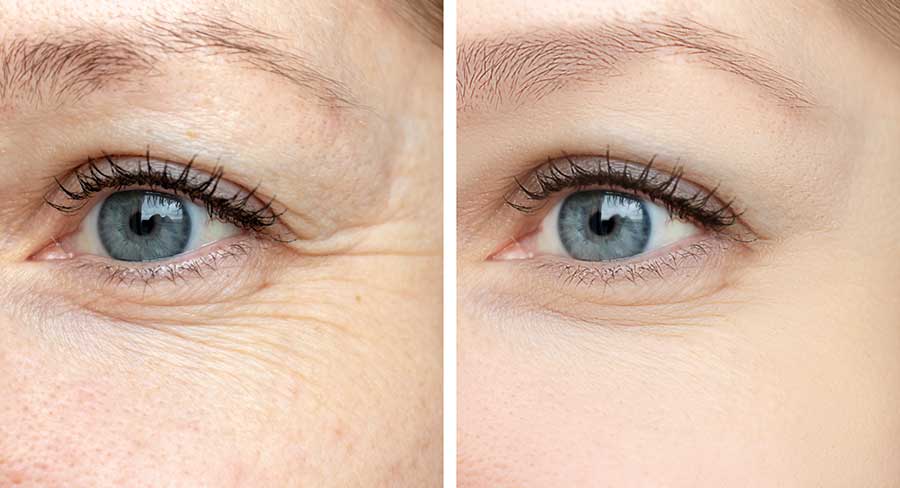 Lip enhancement and shaping
Lip enhancement is a non-surgical method of plumping thin lips to add shape and volume. With a small amount of dermal filler, our experienced aesthetics team can skilfully add definition and plumpness.
Lip enhancement – sometimes called lip augmentation – is a fast and relatively painless process. It is a highly sought after procedure with all adult age groups and suited to anyone who is looking for their lips to have a fuller and more defined appearance. Depending on factors like age and lifestyle, the results can last between 6-18 months.
Is it important to choose a clinician for these treatments?
Undergoing non-surgical facial treatment at a dental practice is the best choice for several reasons.
This type of treatment is not regulated, so choosing a dental practice eliminates the risk of treatment being performed in a non-sterile environment by a practitioner with no accredited training in safely administering facial injections.
Clinicians are trained to a high standard in facial injections, infection control and they have a thorough understanding of facial anatomy and how to treat it safely.
Dental practices are bound by hygiene regulations and clinicians are registered with the Care Quality Commission and the General Dental Council.
Facial aesthetics in Manchester
Though these non-surgical facial aesthetic treatments are available elsewhere in Manchester, at Tomas Dental Clinic you can treat your whole appearance and save time by allowing us to help with those worrisome wrinkles and lines while we attend to your cosmetic dentistry needs.
Our team has extensive experience when it comes to facial aesthetics. If you're interested in finding out how we can help you achieve a younger and healthier appearance, give us a call, fill in the contact form or visit our state-of-the-art dental clinic in the centre of Manchester.